The Sciencenter's Sagan Planet Walk is a 1.2-km 1 to 5 billion scale model of the Solar System.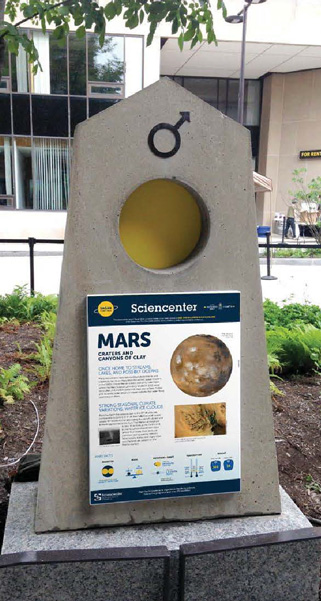 This site, provided by Cornell University's Spacecraft Planetary Imaging Facility (SPIF) in partnership with the Sciencenter, is a supplementary guide to the Sagan Planet Walk. It is continuously updated with all the latest information on the Solar System.
While on your tour, visit the page associated with each station to learn about recent discoveries, additional fascinating facts, and all the spacecraft missions to explore our cosmic neighbors.
Experience the Sagan Planet Walk's augmented reality features by downloading the Sagan Planet Walk App, available via the Apple Store and Google Play.
PLAN YOUR JOURNEY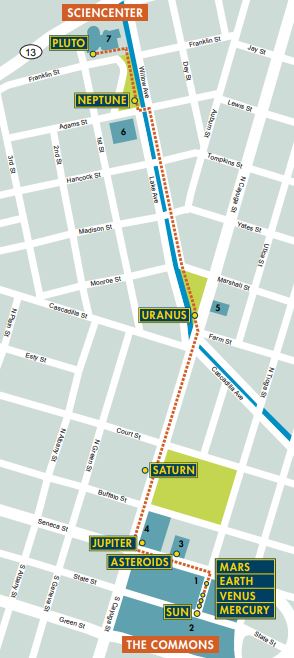 Planetary Passports
You can purchase a Passport to the Solar System for $4 to use as you embark on your 1,200-meter walk. The passport Planetary Passports
You can purchase a Passport to the Solar System for $4 to use as you embark on your 1.2 km (3/4 mile) journey. The passport provides interesting facts about each stop while posing questions to encourage discussion. Using this as a guide, you are invited to stop at each planet station to read the information provided in the passport and to have your passport stamped as proof of your visit to each planet. Each stamp is a Greek symbol that corresponds to the Sun or planet. Take your fully stamped, purchased passport to the Sciencenter for one free admission!
Passports are sold at:
Free Passport
Alternatively, you can download the Passport to the Solar System for free below. Please note that the downloadable passports do not qualify for free admission to the Sciencenter.
THE INSPIRATION: CARL SAGAN
Carl Sagan was Professor of Astronomy and Space Sciences and Director of the Laboratory for Planetary Studies at Cornell University. He was heavily involved in the American space program, from briefing Apollo astronauts before their Moon flights, to leading experiments on the Mariner, Viking, Voyager, and Galileo expeditions, and investigating mysteries like Titan's red haze.
He was a strong advocate of the sciences and a great supporter of the Sciencenter, as well as prominent memeber of the Ithaca community for more than 30 years. We name the planet walk in Carl Sagan's honor in the hopes of continuing his mission to excite future generations about the romance of the scientic enterprise and to convey something of the preciousness and fragility of our tiny world in the context of the vastness of the Cosmos.